Introduction
On April 18 through April 29, Drew Fitzpatrick, Nathaniel Sentas, Jung Pak and Pastor Jason will be traveling to Kenya and Tanzania to meet with mission partners, strengthen relationships, deliver medical supplies and sound equipment, and share in the blessing of seeing the global church in it's glory. This page is the group's effort to share with you the details of the trip as we go. Below you will find updates and pictures as internet access allows. The most recent posts will be at the top.
Cloud Roman and MMF
Drew first met Cloud at a Bible translation training workshop in 2016 in Nairobi, Kenya when he had come from his native Tanzania to serve as a facilitator for one of the supported language groups. He was highly recommended by other African colleagues and did not disappoint, quickly gaining the trust and respect of leaders in the east African Bible translation community because of his wisdom, demand for excellence, and his determination to serve the many remaining Bible-less people groups in Africa. Fluent in four languages and conversational in many others, he was a natural in this ministry and served as Wycliffe Associates' Horn of Africa Regional Director for several years before being called to his current endeavor.
Growing up in a 90+ percent Muslim region of interior Tanzania, Cloud was expelled from his home when he gave his life to Jesus as a young teenager. Returning to his village homestead two years later determined to reconcile with his family, Cloud found his mother lying in bed in a near death state. Immediately falling prostrate and praying aloud to the Great Physician for healing, Cloud looked up thirty minutes later to find his mother sitting upright, completely healed. Witnessing the effectual prayers of his son and the miraculous healing of his wife, Cloud's father welcomed him back to the family but insisted he not share the reason for his change of heart. Our God is mighty!
Cloud pursued post-secondary (high school) Bible studies through college and post-graduate level studies and has been called to serve in leadership positions of increasing capacity in Christian missions and education. He is currently leading the Mwanzo Mpya Foundation (primary school, chapel, medical clinic). He and his amazing wife, Dina, met in Bible college and have two beautiful daughters - Nancy (8) and Abi (5). Dina is the daughter of Africa Inland Church Tanzania pastors, has served with Compassion International, and has an equally impressive record of Kingdom service. She certainly shares Cloud's zeal for reaching the least of these with the gospel of Jesus Christ.
Cloud is truly a man after God's own heart, a visionary and consummate life long learner… of impeccable integrity with an exceptionally well-rounded, distinguished ministry resume highlighted by an unmistakable mark of God's favor in all endeavors. It's a blessing to be in partnership with Cloud, the MMF team, and the many other fine organizations serving on the front lines of unreached people groups to proclaim the good news.
Day 7 - Worship with the South Sudanese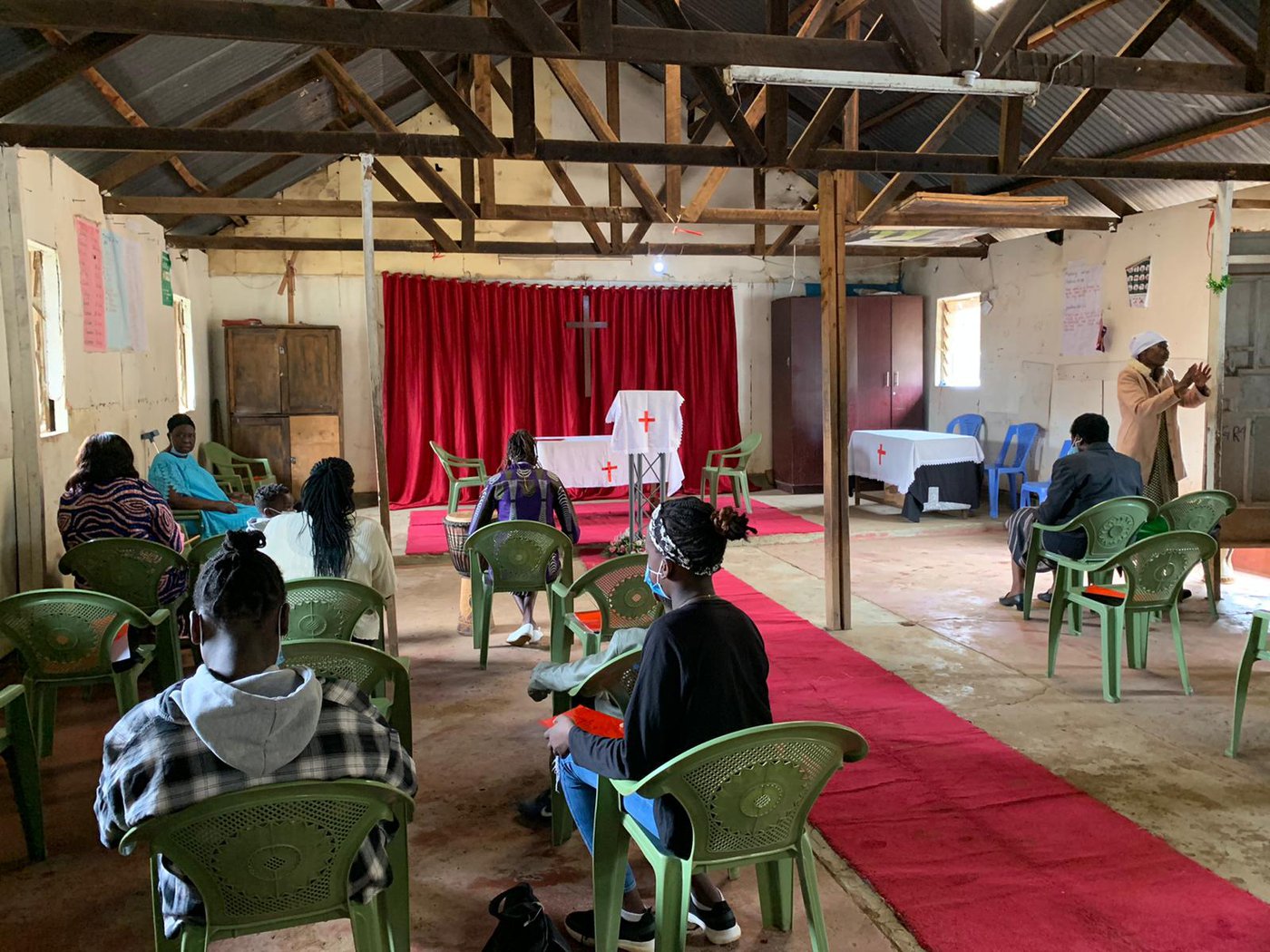 Today is Sunday, the Lord's day. As you and many others around the world gather to worship our Almighty God, we did as well. Ramsey Vule, the acting pastor at the South Sudanese Anglican Church of Nairobi translated Jason's message as it was being preached to roughly 40 people. This provided a unique experience that allowed us to hear the word of God in a different language. Throughout the service we sang hymns in the native language of Swahili. The celebration of our Lord in song unified us as Christians who had two different languages. Contributing to the beauty of the music, drums and gourds filled with chic peas were used as instruments. Following the service, many children stayed for Sunday school and confirmation. Seeing the young children excited and joyful of the word of God filled our hearts with happiness. This reminded us that in all situations we should be excited and ready to serve the Lord. Following the service, we took the afternoon to rest and reflect on the trip so far. We had much to be grateful for and lots to talk about. The rest was very much needed.
Day 6 - AIM Air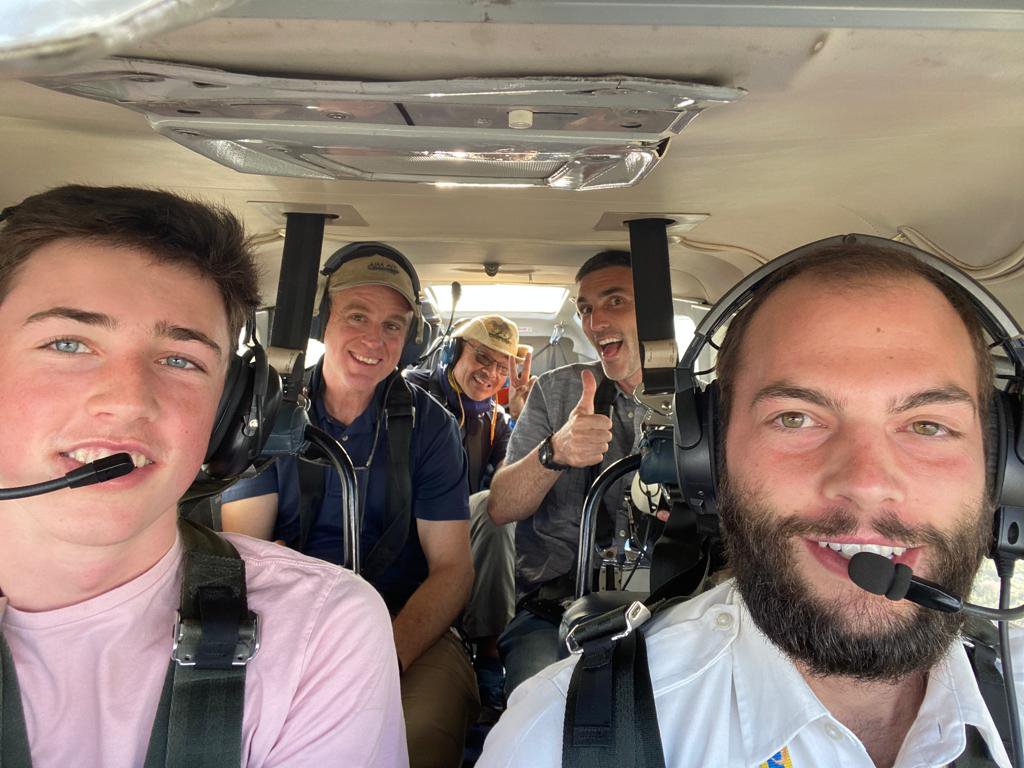 After just under thirty hours' travel on bumpy roads in our first four days, the team opted to support Africa Inland Mission's air department (AIM Air) and catch a Cessna 206 for a MUCH shorter and smoother return to Nairobi. Following a safety brief and prayer, Captain Joe Batchelder lifted our chariot off Eldoret's Runway 08, slipping the surly bonds of Earth and surfing the skies on wings like eagles. While our decision to fly was certainly not out of necessity, the majority of AIM Air's flying is for essential, time-critical and sometimes life or death missions supporting missionaries and their families and other Great Commission activities in the most austere locales.
Upon return to Nairobi, we reconnected with Jerry Hurd, AIM Air's General Manager, who spoke at a FPCM missions meeting during his recent return for a training event at JAARS in Waxhaw, NC. FPCM's tie to AIM Air is through JAARS, one of our five major int'l ministry partners, who does all the initial mission aviation-specific training for AIM Air pilots. Having grown up as a missionary kid in the highlands of Papua, New Guinea, Jerry is quite at home on the missions frontier and is an amazing leader of this incredible, Kingdom-focused organization.
A highlight of the flight was Nate getting sit up front in the copilot seat, getting first-hand experience of bush flying and a very cool practice approach into a short, grass strip carved into the side of a mountain. Pilots like Joe and Jerry and their families make great sacrifices to serve Jesus in their capacities as missionary aviators. It was a joy and a blessing (not to mention a lot of fun!) to be on the receiving end of one of our ministry partner's labor. Stay tuned!
Day - 5 - Visit to Lodengo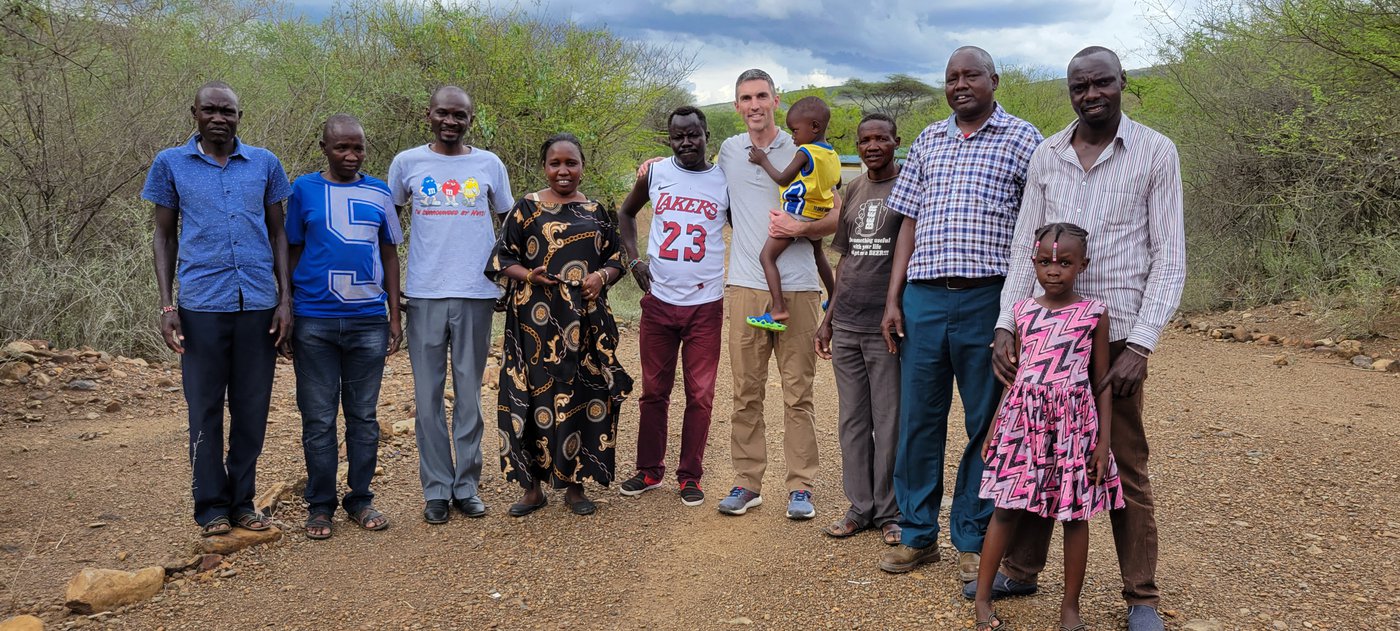 While Nate was playing doctor and Drew and Jung were wrangling hippo's, I had the privelege of traveling to Lodang'O to make connection with a ministry that is supported by many in our community. If you have ever been to a Samaritan's International BBQ at Dr. Mikes, you have helped support this mission. Amos, the matatu driver and I hit the road at 7a.m. and after getting a little lost, picking up a random guy at a gas station who said he knew the way, and driving a remote dirt road for 3 hours, we finally arrived. It turned out the trip was well worth the 5.5 hours of travel.
We were greeted by Pastor Vincent Otieno Olang and his family. We were given some Chai tea and then set out on a tour of the villiage. The school, which was on break at the moment, was an amazing campus of classrooms, dorms, soccer field, and other facilities. Having no water or electricity, the school makes use of solar energy for power and water runoff from the roofs for drinking water. There was the beginnings of a new church building, and a health center with the mission of "providing quality and compassionate healthcare giving glory to God and participating in the saving and healing ministry of Christ." After the tour we sat down to a wonderful meal prepared by Pastor Vincent's wife Dorphine. Somehow the villiage found out it was my birthday and presented me a cake. Seeing this great work of God being carried out humbly by beautiful people of God was both humbling and encouraging.
Day - 5 - Hippos and Mighty Men of God (Kakamega)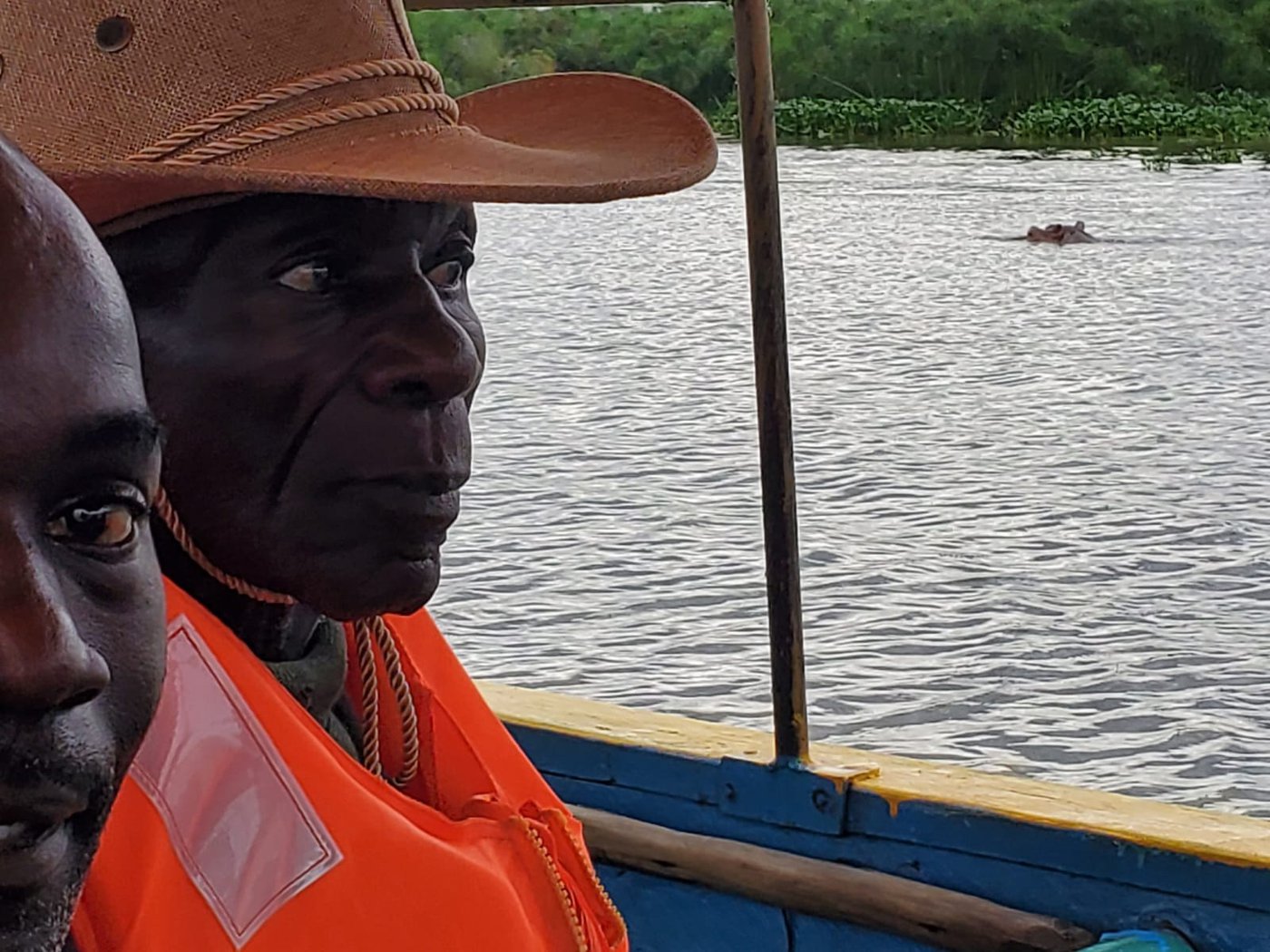 A blessing unique to missions abroad is forging friendships with believers from other cultures and gaining access to unique, "off the beaten path" adventures. Through a series of mutual acquaintances, Drew, Jung, Milton, and Milton's father, Peter Lihodio, were able to board a small wooden boat on Friday morning to putt around in Lake Victoria. We were so fortunate to have been able to get within thirty feet of two different HUGE hippopotami, see families going about their morning routines along the shoreline of Kisumu town, and saw many different species of animals, fish, birds… Here is [Lake Victoria], great and wide, which teems with creatures innumerable, living things both small and great! A blessing unique to missions abroad is forging friendships with believers from other cultures and gaining access to unique, "off the beaten path" adventures. Through a series of mutual acquaintances, Drew, Jung, Milton, and Milton's father, Peter Lihodio, were able to board a small wooden boat on Friday morning to putt around in Lake Victoria. We were so fortunate to have been able to get within thirty feet of two different HUGE hippopotami, see families going about their morning routines along the shoreline of Kisumu town, and saw many different species of animals, fish, birds… Here is [Lake Victoria], great and wide, which teems with creatures innumerable, living things both small and great!
Though Milton's father spoke little English, it was clear that he was a humble man after God's own heart, expressing praise and gratitude at every opportunity and taking the lead in prayer in his mother tongue of Luhya/Lwisukha dialect. Peter was as quick to hop on the back of a pikipiki motorbike as he was stepping into the boat for his very first visit to Lake Victoria, a mere 64 miles from his home. Like Caleb requesting the hill country (Josh 14:11), at a spry 91 years-young, Peter seemed as strong and fit as he might have been as a much younger man; God has blessed His servant mightily!
Day 5 - Nate the Surgeon's Assistance and Librarian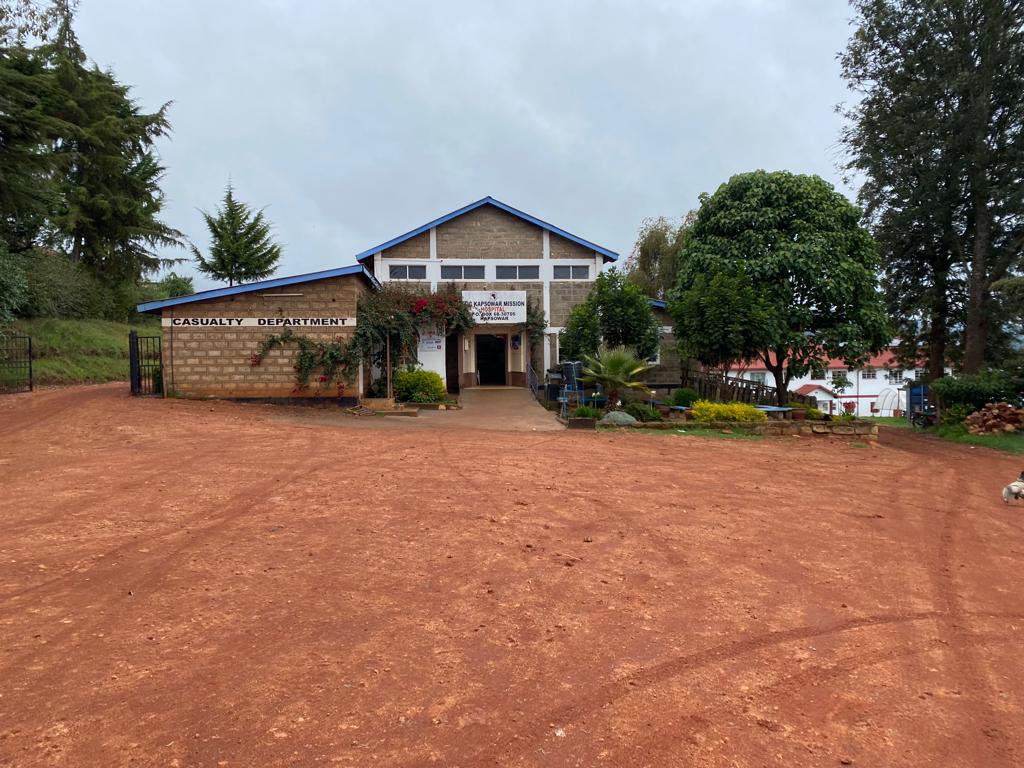 After arriving on Thursday at noon and spending some time with the many and varied people of the African Inland Church Kapsowar Hospital Mission Compound, Nate and Jason sat down to a meal with Bill and Laura Rhodes, two long time station doctors. Bill and Luara had just returned from the Nuba Mountain region of South Sudan where they were filling in for Dr. Tom Catena who serves as the only doctor in the region for 1 million people. Following that they spend time with a team from Samaritains Purse performing cleft pallet surgeries. Suffering from malaria, and clearly being exhausted from 2.5 days of travel, the Rhodes insisted on hosting us. The conversation was rich, the hospitality overwhelming, and the challenge for Nate and Jason to be solidly mission minded people, was overwhelming. We were humbled to be in the presence of people who so clearly gave their all to love God, love people, and make disciples. After hosting us till about 10 p.m., our weary hosts would rise ealry the next morning to lead the station in a Bible study of Psalm 131. Picking up your cross daily was put on full display for all to see.
On Friday moring Jason went to Lodeng'o, while Nate remained in Kapsowar. Nate's morning started out with the study of Psalm 131 and was followed with an invitation to observe a c-section. Nate's eyes were opened to some of the realities of his desire to be a doctor in the future. After the proceedure, Nate moved over to the Theological library to help the Librarian do some organizing. Following lunch Nate went back to the clinic and spent three hours shadowing the Pediatrician. This was his favorite part of the day and much easier to watch than the c-section. He closed out his day with another hour at the library and a pot luck dinner with the people of the mission compound.
Day - 4 - The Kakamega Team Sees Bible Translation Benefits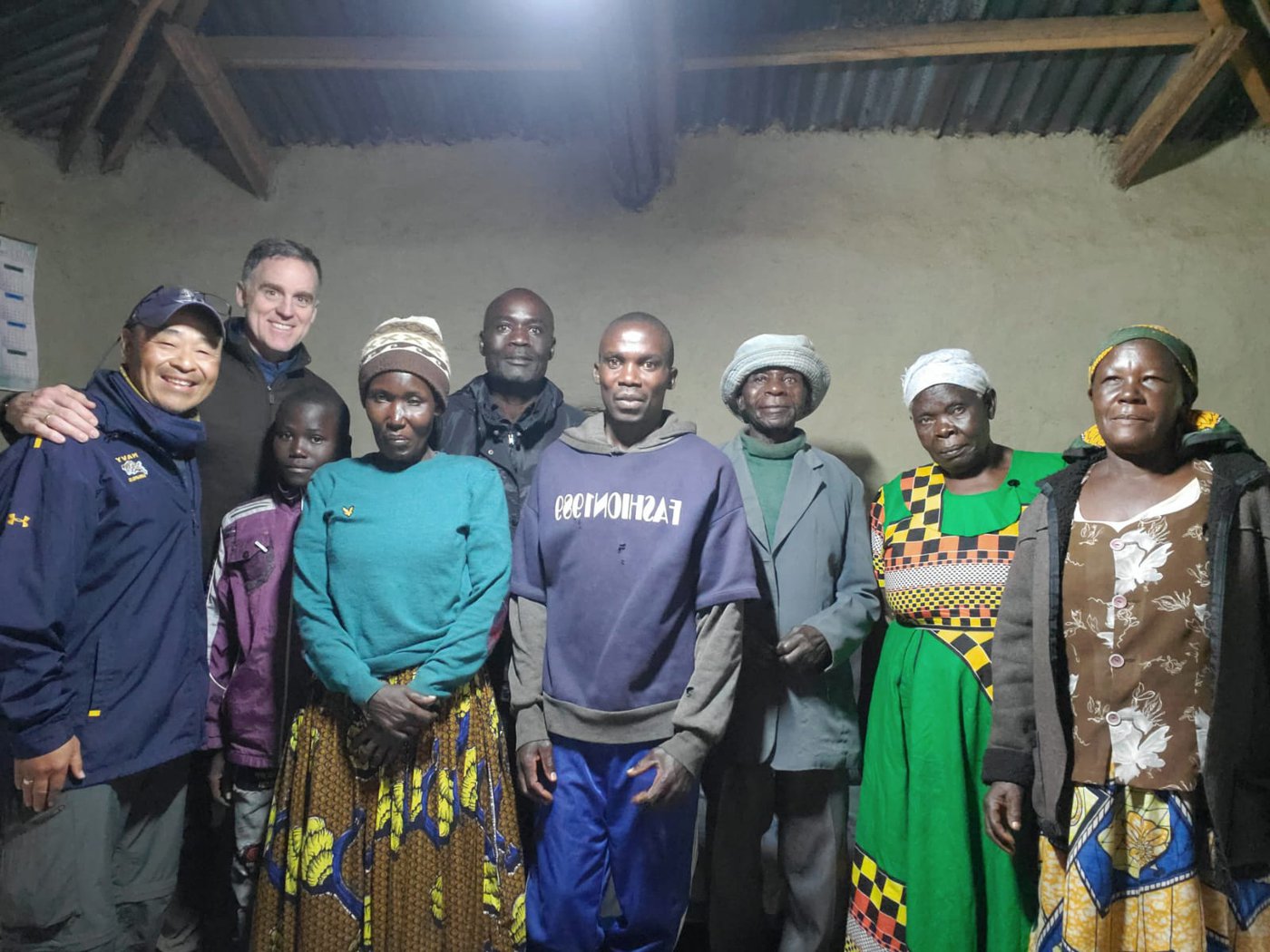 As Jason and Nate went northbound for Kapsowar, Jung, Milton and Drew boarded an eleven passenger public transportation van called a matatu for a two-hour ride through beautiful countryside to Milton's ancestral home in Lirhanda, Kenya. The love of Christ was simply unmistakable as we were greeted by the saints of the Friends Church, founded in 1906. Lirhanda is the central village of the Luhya language's "Lwisukha" dialect. As the Lwisukha team leader, Milton and sponsoring Friends Church is nearing the completion of translation and publishing a fifty chapter Bible story book to help the church share the gospel in the language that truly speaks to the hearts of the Isukha people group. This resource will also be audio recorded and available for electronic distribution.
Following fellowship and worship with church leadership and congregants, we had the incredible privilege of venturing via "pikipiki" motorbikes deep into the countryside to meet four generations of Milton's family where the Lihodio folks give southern hospitality a run for its money. As they filled us with tea from tea plants in their own backyard and showered us with sincere gratitude for coming all the way to their village to visit, the love of Christ and the meaning of unity with His church assumed greater meaning. Mungu ni mwema sana (Swahili for God is very good)!
Day 3 Update - Dinner with David and Goretti Waako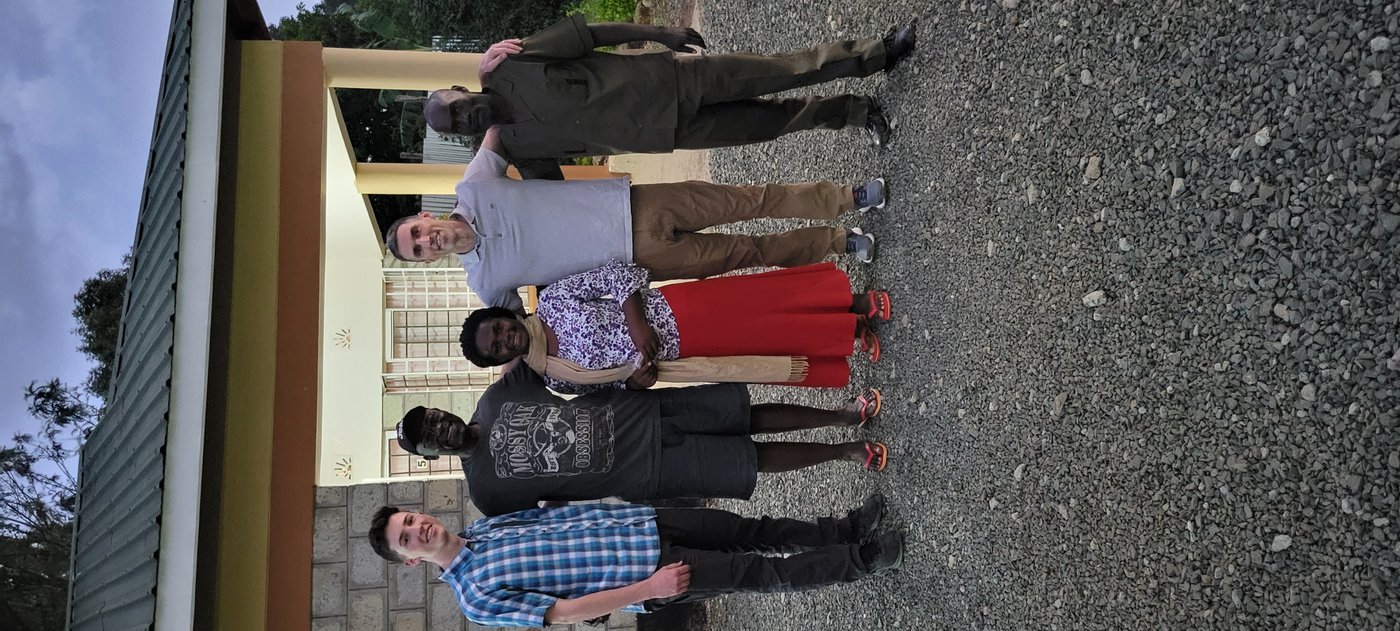 We just returned from a woderful dinner with David and Goretti. While a few of us have met David before, none of us had been able to meet Goretti before and she is wonderful. We communed together over a traditional Kenyan meal of Ugali, a stiff maize flour porridge, and goat meat. We were able to pass along the sound equipment, to talk about ministry, and make some new introductions. David and Goretti graciously offered to host Milton on a future visit to Uganda and is hoping First Presbyterian Church is able to come and visit as well. Below are a couple of pictures from our short time together.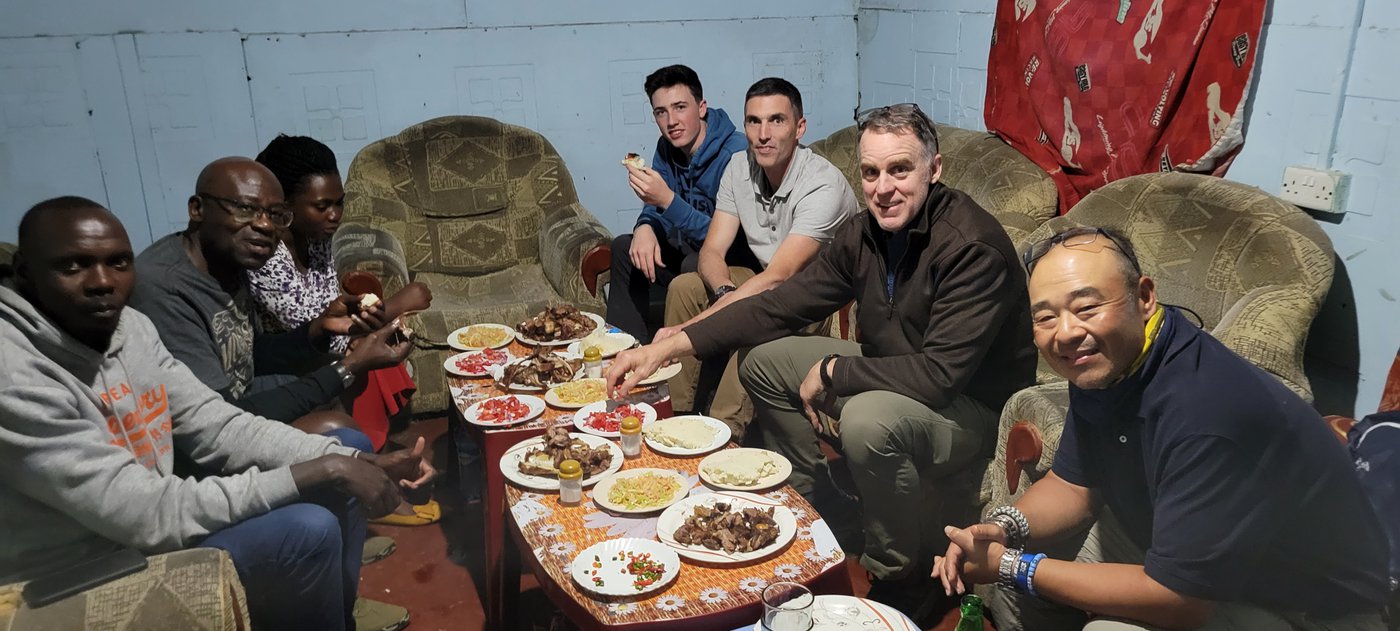 Days 2 & 3 - The Team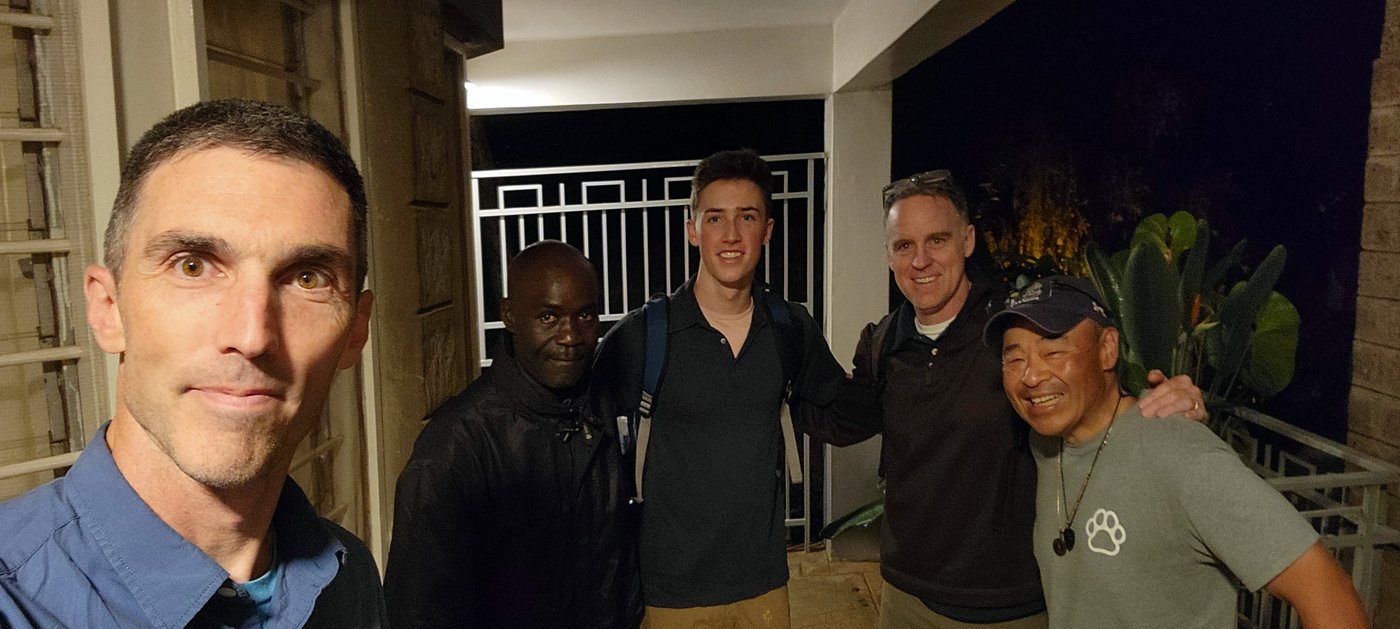 After 30 hours of traveling we landed in Nairobi a little after 10 pm last night. After collecting all 11 of our bags we made our way to the guest house where we met the other two members of the team. Jung Pak, affectionately known as the Pakman, and Milton Mung'au, a Kenyan national who is a brother in Christ and Bible translator. After a short but sweet greeting and time of prayer we went to bed.
This morning we gathered at 8 a.m. to seperate our luggage for the two legs of the trip. After placing the Tanzanian stuff in storage, we loaded into a matatu (think small van for lots of people) and headed 6 hours North to Eldoret. On the way we stopped to meet with the Benja, son of Pastor Timo from Kakuma, to greet him and deliver some things for him. After some breakfast of mandazi's and milk tea with Benja we hit the road again. The Kenyan countryside was beautiful and the sites where many. We stopped for roasted corn on the side of the road, a picture at the Equator, and to do some shopping. In five minutes we leave to meet Pastor David Waako and his wife Goretti for dinner. We are excited to deliver the sound equipment we have carried from First Presbyterian Church.
Tommorrow morning our team splits up and heads in two direction. Drew, Milton and Jung head to Kakamega and Nate and I head to Kapsowar. We are all a bit weary, but after some sugar we all get pretty fired up again. Today we used a donation from some church member to buy our supplies. Each step of the way we are reminded we are not here on our own, but the support of the church is right with us. Please pray for safe travels as we split up tomorrow.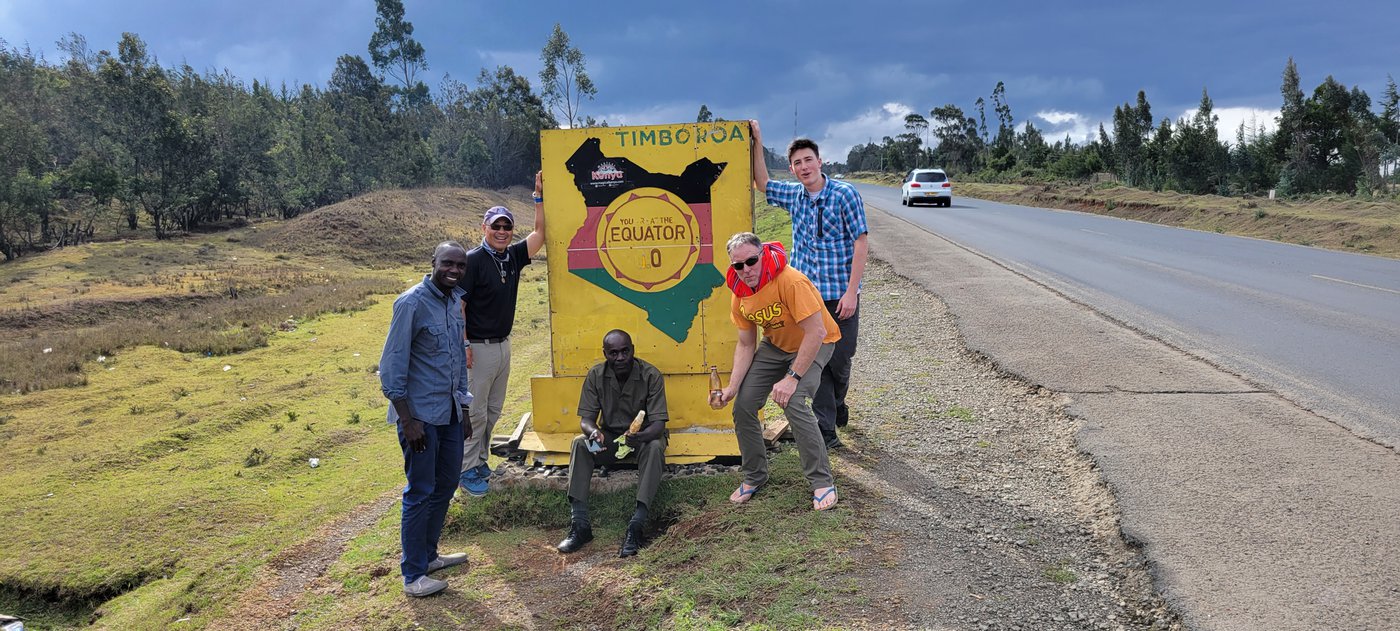 Day # 1 - April 18, 2022 - 5:00 p.m. - Leaving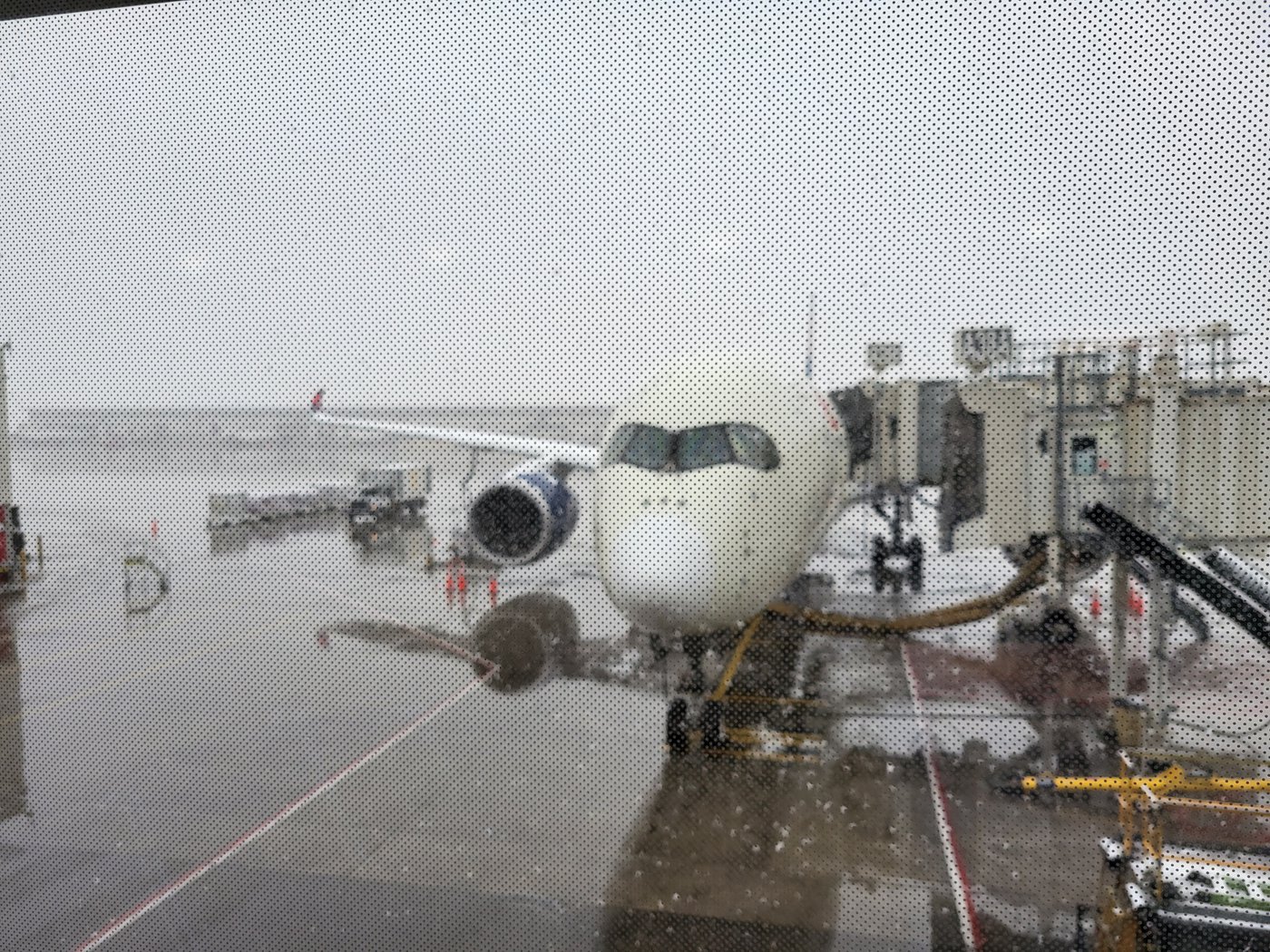 After celebrating a wonderful Easter with First Presbyterian Church and then our families, we finished packing around midnight and got some sleep. We met this moring at 10 a.m. to head to CLT. After a time of prayer at gate A9 we boarded our flight and now sit in Detroit where it is snowing and there is a Karaoke fundraiser for cancer research. We are currently being serenaded by 7 women who don't sing much better than me. We are grateful for the prayer support in moments like these. In a couple of hours we catch our next flight to Amsterdam, and then on to Nairobi after that. In total, we will be traveling 25 hours and 54 minutes and we are looking to make the best of each.
Over the next 12 days we will spend time in the following cities: Nairobi, Eldoret, Kapsowar, Kakamega, Lodengo, Arusha, Babati, Kinyasi Majengo and hopefully a quick visit to the Eiffle Tower in Paris on our way home. As you can see there is lots of travel and much to do.
We are so grateful for the way the church, and many others have rallied around us and are grateful to be sent by so many and to be surrounded by the prayers of the saints.