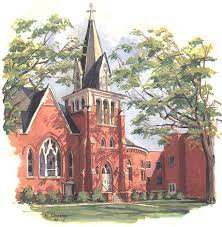 Located near the Mooresville town center, FPCM is an historic church founded in 1875. The sanctuary was constructed in 1899 and has had several additions over the years.
A beautiful, classic sanctuary (at the corner of West McLelland Avenue and South Academy Street), an adjacent educational building with offices, and a new contemporary worship/multi-use center (at 143 South Broad Street) comprise the main facilities. A large, brick manse (pastor's residence) and adjacent fellowship yard are next to the sanctuary.
Handicapped parking behind the Educational Building entrance enables easy access to the buildings via an elevator. Additional parking is located on Academy Street.
Take a quick tour of the campus with the Google Street View here. You can find us on Google Maps here.
We would love to see you, soon!